No results were found for the filter!
INT-DXS35-TFAC-T-R | Tower / 4U Convertible Server Tower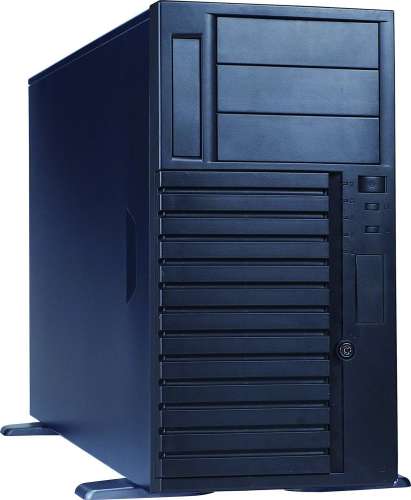 2x 10GbE LAN Ports + 1GbE (mgmt port)
Up to 3 GPUs
1300W Redundant power supplies (Titanium Level)
8 Hot-Swap 2,5" Slots
4 Oculink Ports onboard
Please contact our sales team
Do you need help?
Your contact person:
Donna Holz
Sales
Do you need help?
Simply call us or use our inquiry form.
Intel Xeon servers: D, E3, E5, E7? Fitting Xeon CPUs for every application
Xeon CPU servers of all types can be found in global data centers worldwide and offer suitable solutions for every application. Here one differentiates between a large number of series.
Single Intel Xeon CPU servers
Single CPU-based Xeon E3 and E5 systems are the first choices for computing-intensive applications in the server segment and professional users. They are common in fast tower workstations. Coupled with nimble GPU cards, Xeon E3 and E5 servers support design and simulation, especially in the CAD environment.
Multi CPU Intel Xeon servers
If a lot of processor power is required, multi-CPU systems such as the Xeon E5 servers meet these high demands. Depending on the system, two to four processors of the Xeon E5 series are housed in one system and combined with several CPU cores and threads. They provide sufficient computing power for the operation of complex virtualization. They are, therefore often the backbone of large data centers.

The Xeon E7 servers double this configuration and place a total of four to eight processor sockets in a single system. With up to 24 cores and 48 threads per CPU, a single system can reach 192 cores and 384 threads in its maximum configuration. There are practically no limits to the most complex applications. In a minimal space with a low power consumption of a maximum of 165 watts for a 24 core CPU, a high power density with efficient power consumption is offered.
Intel Xeon scalable servers
The official successor to the previous E5 and E7 processors is the novel Xeon Scalable series. With continued extremely efficient construction and up to 28 cores, such as in the Xeon Platinum 8180, the Xeon Scalable CPUs represent today's spearhead.
Especially for high scalability and applications in the field of AI and HPC, Xeon Scalable servers are aimed at operators of modern data centers and meet the requirements for maximum flexibility. Starting with embedded mini Intel Xeon servers in the smallest format over Xeon tower servers for use as a workstation in the office up to classical Xeon rack servers in the data center, the Intel classics in the server segment offer high flexibility.
Intel Xeon servers for all applications – configure your ideal server.
Using the HAPPYWARE configurator, you can configure your Intel Xeon server with just a few clicks and assemble it with the right hardware components according to your requirements.

Whether for databases, as a network server, cloud solution or modern virtualization solution: Simply put together your Intel Xeon server as you like and rely on the help of our experts in HAPPYWARE sales.
Rent Intel Xeon servers: The flexible solution
With a variety of runtimes and monthly installments, you can rent your Intel Xeon servers at low cost and, in the shortest possible time, constantly modernize your IT infrastructure without major investments. At the end of the rental term, you do not need to worry about recovering the previously used hardware and always equipping your data center with the latest hardware. Of course, our varied warranty packages also apply here and allow worry-free operation without technical risks.
We are here to help you at any time - regardless of whether you buy or rent your Intel Xeon server. We assist you with our technical and sales support with any questions about your projects and also during the ongoing operation. We can give more details or answer questions you may have about our service packages through a phone call or email.
Buy used Xeon servers: Readily available and powerful.
Since Intel Xeon processors are practically an industry standard and can be found in most servers, this results in a big advantage for tight budgets. Returns from rentals and Xeon servers replaced by newer systems can be sourced in bulk at low prices. Buying used servers is especially interesting for smaller businesses and start-ups.
After the usual extensive HAPPYWARE quality control and conscientious function tests, the Xeon systems, which are available from stock, benefit from the shortest possible reaction times and save money with attractive purchase prices. Ask our HAPPYWARE sales department about using Xeon server systems and thus give your IT access to gigantic computing power.