No results were found for the filter!
X500 | Getac Single Xeon Mobile Server Laptop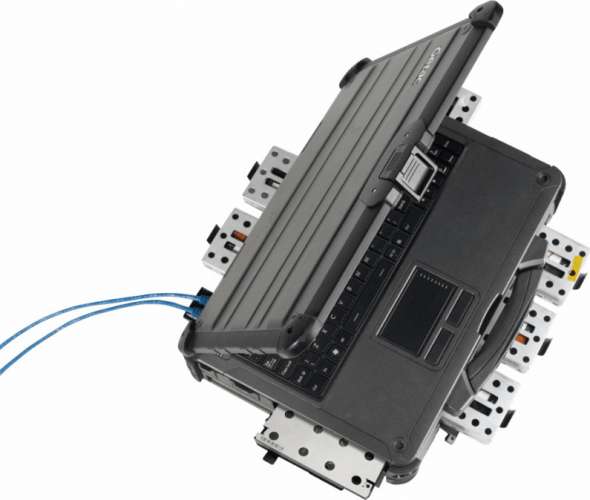 special highlight
MIL-STD-810G and IP65 certificated
Mobile server, 15.6" display
Intel Xeon E3-1505M v6 CPU
Up to 64GB RAM, DDR4 ECC
2x HDD/SSD Drive bays, up to 1TB
X Bay, for up to 5TB SATA HDD/SSD
2x RJ45 GbE LAN Ports
4x USB 3.0, 1x HDMI, 2x COM Ports
Please contact our sales team
Do you need help?
Your contact person:
Christoph Handl
Sales
Do you need help?
Simply call us or use our inquiry form.
What is a Mobile Workstation?
mobile workstation is visually similar to a laptop. The main difference to an ordinary laptop is the workstation's equipment, which has been optimised for computationally intensive applications.
A mobile workstation combines the compact dimensions of a laptop and its low weight with the special features of enterprise-class workstations.
Mobile Workstations: The features of a portable workstation at a glance
With its equipment, a mobile workstation is ideal for all employees or freelancers who occasionally or regularly need a laptop with extra computing power.
What makes a mobile laptop workstation so powerful? We have gathered some key information on the most common models:
Display
Mobile workstations with FullHD or 4K resolution are available to meet any requirement profile. These displays start at 15.6 inches and usually offer excellent color space coverage (AdobeRGB, sRGB), which is essential for video and image processing.
Graphics
FIn a portable workstation, it is the right graphics card that provides the best computing power. NVIDIA Quadro series graphics cards, for example, offer special features that make them useful for enterprise applications such as complex rendering processes.
Processor
Modern Intel Xeon and Intel Core processors with their powerful multi-core processors and a sufficiently high clock rate support perfect and smooth work on the laptop workstation.
RAM
Most models of current mobile workstations have 8 to 64 GB DDR4 memory in the basic version. This can be extended before purchase as well as afterwards
Storage
By using SSD / NVMe SSD for data storage, portable workstations set the standard for reading and writing data. This allows the files to be made available for the respective programs in the shortest possible time.
Connections
Depending on the manufacturer, a mobile workstation offers a mix of state-of-the-art and older connections. This ensures compatibility with older systems without the need for an additional adapter. Some models also have factory-integrated WiFi support.
Certifications
When using different software solutions, users have a particular interest in whether the hardware of the workstation is designed for their software.
ISV certifications (Independent Software Vendors) give customers the assurance that they are buying a mobile workstation that delivers strong performance in their most important applications.
Buying a Mobile Workstation: The Right Focus for Your Purchase
Whether rendering animations, calculating financial models, or editing video footage - mobile workstations are suitable for many of these applications. In addition to ISV certifications, we recommend that you consider the following points before purchasing a mobile workstation:
Focus: Battery
The more battery power you need, the higher the potential weight of the Mobile Workstation. If you predict that the workstation will be used while travelling only occasionally, a nominally lower battery performance can be perfectly sufficient.
Focus: Performance
If you intend to use the Mobile Workstation to present projects, or want to render CAD models on the go - the more computing load, the better the cooling has to be and the louder the fan is likely to be. Include this in your planning if it is foreseeable that your laptop will work more frequently under full load.
Focus: Display
If you need a large display with 4K support for your mobile workstation, it's important to recognize that larger displays increase the weight of the workstation and need more power. An option is to have a smaller display with FullHD resolution.
Buy Mobile Workstations from HAPPYWARE and benefit from additional services
Strong design and best performance in a minimum of space - with us, you will receive mobile workstations from renowned manufacturers such as Lenovo, Dell, HP, or Fujitsu. These offer you the full computing power of an enterprise workstation anytime and anywhere.
We also offer the following services:
Custom-built workstation hardware
We manufacture workstation setups and much more on customer request - simply make use of our workstation configurator.
Financing and leasing on request
We will find the right solution for financing your IT with our range offers with attractive terms and conditions.
Service packages for every IT
Protect your business from possible disasters with one of our many flexible service options.
If you have more questions about our Mobile Workstations, or are looking for a custom-built workstation, please contact us by phone or email. At HAPPYWARE, we are always here to help.