No results were found for the filter!
AS-2123US-TN24R25M | Supermicro 2U Rack Dual AMD EPYC Server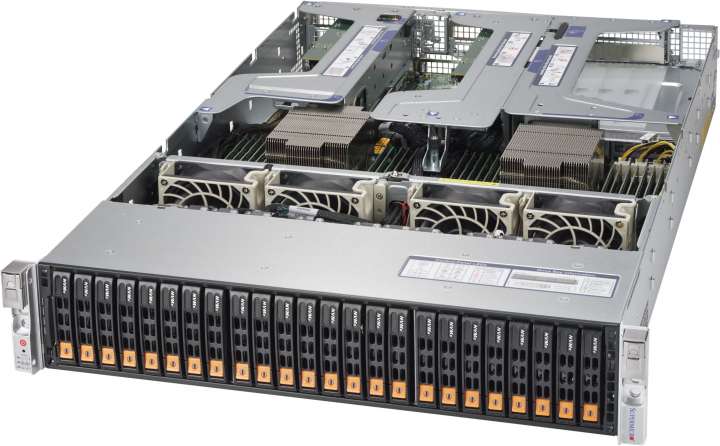 special highlight
24x NVMe U.2, Dual 25G Ethernet
2U Rack Server, 225W TDP
Dual AMD EPYC CPU, 7002 series
Up to 8TB RAM, DDR4-3200MHz ECC
2x SFP28 25GbE LAN ports
24x Hot-swap 2.5 U.2 NVMe drive bays
1600W Redundant power supplies (Titanium Level)
SYS-2029BT-HER | Supermicro 4-Node Dual Xeon 2U Rack Server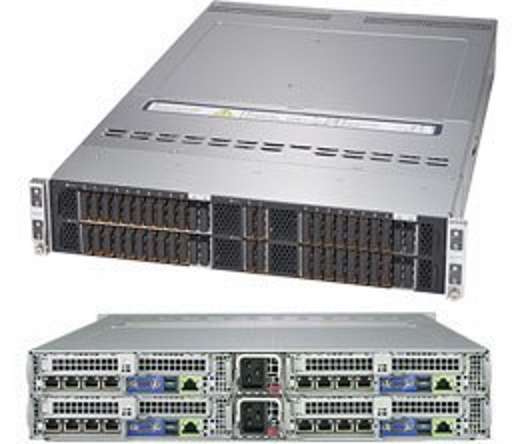 2U Rack Server, 165W TDP
2x Hot-pluggable nodes
Dual Intel Xeon Scalable CPU, 2nd Gen.
Up to 6TB RAM, DDR4-2933MHz ECC
10x EDSFF (E1.S) drive bays
2600W Redundant power supplies (Titanium Level)
R282-Z92 | Gigabyte Dual AMD EPYC 2U Rack Server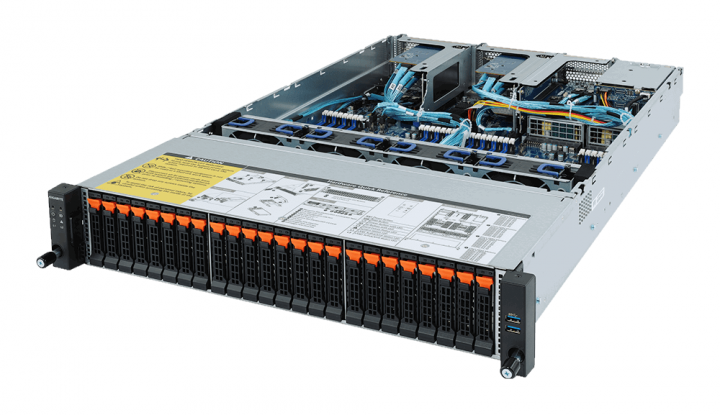 special highlight
24x NVMe U.2 on 2U, PCIe 4.0 ready
2U Rack Server, 225W TDP
Dual AMD EPYC CPU, 7002 series
Up to 4TB RAM, DDR4-3200MHz ECC
24x Hot-swap 2.5 NVMe drive bays
2x PCIe 4.0 x16 slots
1600W Redundant power supplies (Titanium Level)
SSG-136R-NEL32JBF | Supermicro 1U Rack JBOF Storage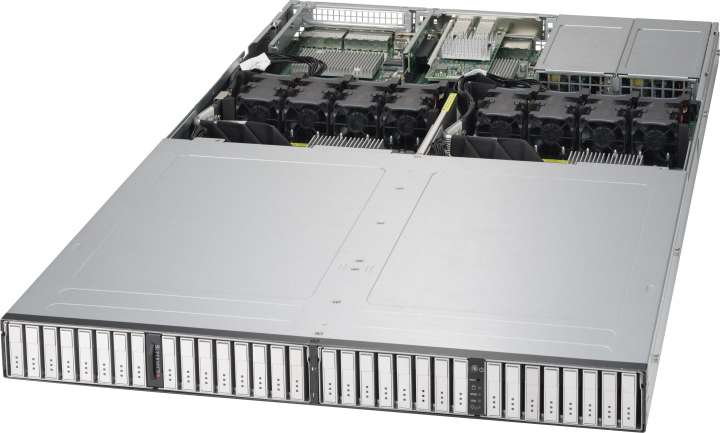 1U JBOF Chassis
32x Hot-swap 9.5mm EDSFF drive bays
2x PCIe 3.0 x16 slots
8x 40mm fans
1000W Redundant power supplies (Titanium Level)
Please contact our sales team
Do you need help?
Simply call us or use our inquiry form.
HAPPYWARE can provide you with prefabricated All-Flash Storage, SSD Storage, or an individual IT solution. You will find exactly what you need for your company.
What is Flash Storage?
Flash storage, or flash memory, is a storage system that is responsible for digital data backup and non-volatile storage. The deletion and reprogramming of the data stored on it is done electronically. This eliminates rotation delays and search times.
As a result, flash storage systems out perform ordinary hard disk drives both in terms of speed and the amount of data that can be processed.
Flash storage is available in different versions: from the small USB stick to the all flash array.
What are the advantages of Flash Storage?
The cost of flash storage has been declining steadily over the last few years. As a result, even companies with small budgets can now stock up on large flash storage capacities.
Some of the benefits of All-Flash storage are:
High performance: Outstanding performance is one of the greatest and best-known advantages of flash storage. For example, the performance of conventional hard disk technology is exceeded by a factor of 20. No Enterprise HDD can keep up with the high reading speeds of up to 500 MB/s. Flash systems are used, among other things, to increase I/O performance in data centres.
Low latency: In addition to fast response times (low latency), large amounts of redundant data can also be handled with all flash systems / SSD storage systems.
Optimised cost-effectiveness: In addition to their high performance, modern all-flash storage systems have a high density saving valuable space in the data centre. In turn cooling costs are decreased leading to lower electricity consuption.
Due to these advantages, Flash Storage is used, for example, in inventory management systems. The performance-hungry databases of these systems place high demands on the system because the data must be kept up to date at all times. Low latency is essential to make data available as quickly as possible.
Flash SSD: Flash-based Solid State Drives
Flash storage is based on solid-state technology, eliminating the need for moving parts. If these are used in enterprise storage environments, the term flash drive or flash array is used, which is synonymous with Solid State Drive (SSD).
Initially, SSDs and HDDs were designed for the same I/O interfaces, such as SATA or SAS. Modern SSDs rely on flash memory with NVM Express (NVMe), an interface optimized for SSDs. Compared to SATA or SAS SSDs, NVMe SSDs offer increased performance, bandwidth, and storage capacity.
Where is Flash Storage used?
Flash technology is used wherever high performance is required and a lot of data needs to be stored securely. This makes Flash systems particularly suitable for:
Databases
Desktop virtualisation
Even though all-flash systems are associated with higher investment costs, they also pay off economically: all-flash arrays do not require moving parts and are therefore robust. In addition, all flash arrays impress with lower power consumption and require less maintenance.
Flash Storage at HAPPYWARE - Your specialist for storage systems
At HAPPYWARE you will find the following products with Flash Storage:
1U, 10x 2,5"; 10x U.2: 1029U-TN10RT
40 lanes to HotSwap-Bay (x4 connection per U.2 NVMe)
2U, 24x 2,5"; 24x U.2: 2029U-TN24R4T
PCIe Switch on backplane to distribute bandwidth as needed
4U, 48x 2,5"; 48x U.2: 2028R-NR48N
PCIe Switch on backplane to distribute bandwidth as needed
If you have any questions about our product portfolio or if you would like additional information on Flash Storage, All-Flash-Array, SSD Memory, NVMe SSD, or any other storage system, please contact us. Call us at 04105 / 770 000 or send us an email. Our friendly and qualified staff will be happy to help you.