No results were found for the filter!
SYS-7089P-TR4T | Supermicro 8-Socket Intel Xeon 7U Rack Server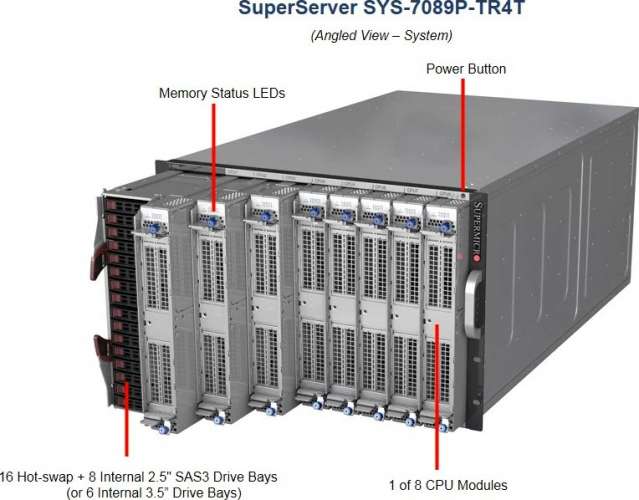 special highlight
Octa Socket, up to 24TB RAM
7U Rack Server, 205W TDP
Octa Intel Xeon Scalable CPU, 2nd. Gen.
Up to 24TB RAM, DDR4-2933MHz ECC
23x PCIe 3.0 slots, up to 39x PCIe 3.0 slots for OEM
16x Hot-swap 2.5 SAS3 drive bays
1600W (N+2) Redundant power supplies (Titanium Level)
Please contact our sales team
Do you need help?
Your contact person:
Donna Holz
Sales
Do you need help?
Simply call us or use our inquiry form.
8 Way Servers: Advantages, areas of application & more
8 CPU systems are powered by Intel MP processors Xeon E5 or Intel Xeon Scalable with high computing power resulting in them being able to handle labour-intensive jobs with ease. Only the highest quality CPUs are used to achieve these tasks. 8 CPU servers consequently offer large amounts of computing power and RAM.
The benefits of an 8 Way Server
8 Way servers are ideally suited for highly computing-intensive tasks. The following advantages contribute to this:
Fast availability of data thanks to U.2 NVMe SSDs
Intel Xeon E5 or Intel Scalable processors guarantee high computing power
Space-saving thanks to a 7 U housing
Where to use 8 Way Xeon Servers
Owing to the high computing power, Servers with 8 Xeon processors are mainly used in the following areas:
Analysis
Databases ( in-Memory Database)
Virtualisation
High Performance Computing (HPC) workloads (scale-up)
ERP
CRM
Basic Performance Specifications of an 8 CPU Server
The Supermicro models SYS-7088B and SYS-7089P are good examples for 8 CPU socket Servers. The System 7089P-TR4T consists of a network of several motherboards and maps the 8 CPU system to 7U. The 8 Way Servers made by Supermicro excel with the following features:
8 Sockets support Intel Xeon E5 and Intel Xeon Scalable Processors
12 TB in 96 DIMM slots (SYS-7089P) | 24 TB in 192 DIMM slots (SYS-7088B)
23 PCIe 3.0 expansion slots, 32 U.2 NVMe or 8 GPU support (SYS-7089P)
8-way multi-processor with up to 224 logical cores (SYS-7089P)
5x 1600W redundant titanium level high-efficiency (96%) power supply units
Custom-built 8 CPU Supermicro Server from HAPPYWARE - Your Online Shop for Intelligent IT Solutions
HAPPYWARE specializes in the production of storage and server systems and offers turnkey IT solutions tailored to customer requirements. With Supermicro 8 CPU Server you can also create your own individual custom-built system. Our expert service staff are happy to answer your questions and help you select the best components.
In addition to our Built-to-Order service, we provide many other beneficial services:
Buy refurbished servers: HAPPYWARE is able to provide you with fully refurbished servers direct from stock. These offer an excellent price-performance ratio and meet the highest quality requirements.
Rent a server: 8 Way servers are an investment, which is why we offer our customers the possibility to rent them on flexible terms. Start-ups and smaller companies in particular take advantage of this convenient option.
Warranty services: HAPPYWARE offers a wide selection of warranty packages. Ranging from remote support, warranty extension to full on-site assistance – you choose to fit your requirements.
If you have any questions about 8 CPU Server or need further advice please do not hesitate to contact us by email or by phone on our service hotline: 04105 - 770 000.