No results were found for the filter!
CSE-836BE2C-R1K03JBOD | Supermicro JBOD Enclosure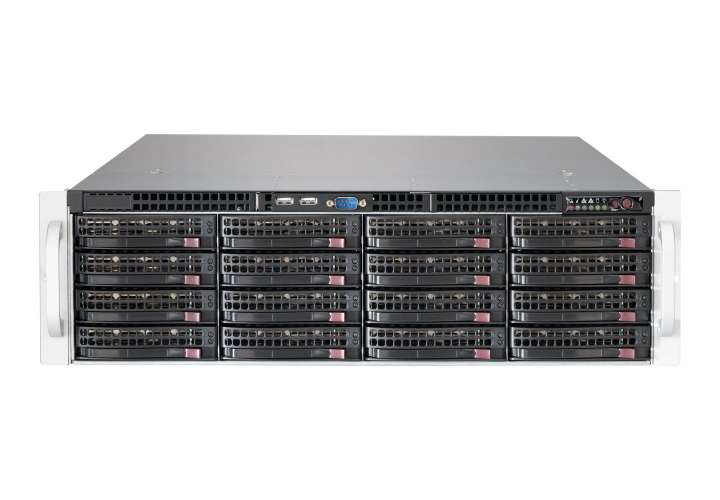 3U Storage JBOD Chassis
16 x 3.5 Hot-swappable HDD
8x Mini-SAS HD ports
1x IPMI port
5 Redundant Hot-plug Fans
Support NTP for time synchronization & RTC battery backup
1000W (1+1) 96% Efficient Power Supplies (Titanium level)
CSE-826BE1C-R741JBOD | Supermicro 2U Rack JBOD Enclosure

2U Storage JBOD Chassis
12x 3.5 drive bays
4x Mini-SAS HD ports
1x IPMI port
3x 80mm hot-swap fans
740W Redundant power supplies (Platinum Level)
CSE-216BE1C-R741JBOD | Supermicro 2U Rack JBOD Enclosure
2U Storage JBOD Chassis
24x 2.5 drive bays
4x Mini-SAS HD ports
1x IPMI port
3x 80mm hot-swap fans
740W Redundant power supplies (Platinum Level)
SSG-937R-E2CJB | Supermicro Rack Storage 2-Node JBOD Enclosure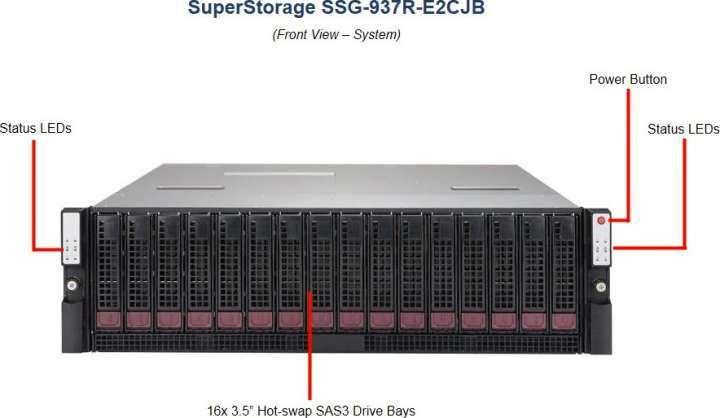 special highlight
Hot-pluggable Dual Expander
3U Storage JBOD Chassis
2x Hot-pluggable nodes
16x 3.5 drive bays totally
4x SAS 3.0 IO ports totally
1200W Redundant power supplies (Titanium Level)
SYS-1029TP-DC1R | Supermicro Dual Xeon 2-Node 1U Rack Server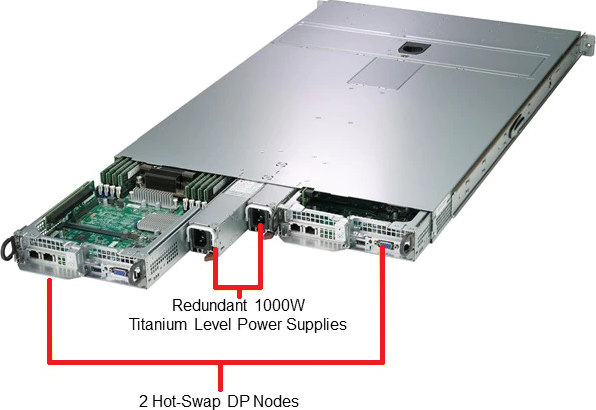 1U Rack Server, 145W TDP
Dual Intel Xeon Scalable CPU, 2nd Gen.
Up to 4TB RAM, DDR4-2933MHz ECC
Network support via SIOM
1000W Redundant power supplies (Titanium Level)
SSG-136R-NEL32JBF | Supermicro 1U Rack JBOF Storage

1U JBOF Chassis
32x Hot-swap 9.5mm EDSFF drive bays
2x PCIe 3.0 x16 slots
8x 40mm fans
1000W Redundant power supplies (Titanium Level)
CSE-946SE2C-R1K66JBOD | Supermicro 60-Bay JBOD Enclosure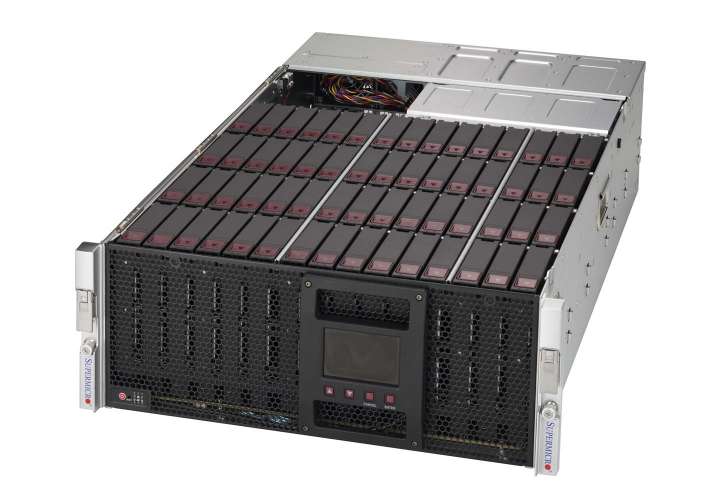 4U Storage JBOD Chassis
60 x 3.5 Top Loading SAS/SATA
8 x Mini-SAS HD ports
1x IPMI port
Optimized cooling with 5x80x38mm rear hot-swap fans
Tool-less HDD tray with HDD LED indicator
1600W Redundant Power Supply (Platinum level)
Please contact our sales team
Do you need help?
Your contact person:
Donna Holz
Sales
Do you need help?
Simply call us or use our inquiry form.
Instead, a Direct Attached Storage system can be a more suitable option. It is less expensive to purchase but provides a large performance boost for server systems and data-intensive applications. Ideal for SMBs.
Direct Attached Storage solution with Supermicro systems are available at HAPPYWARE. Use our configurator to find the right DAS Storage for your individual needs.
What is Direct Attached Storage (DAS)?

The abbreviation DAS describes Direct Attached Storage, i.e. a storage medium that is directly connected to a single computer or a server unit.
Direct Attached Storage has no additional switches, which means that its storage capacity is explicitly only available to one user/server. This storage solution is regarded as a cost-effective traditional way of equipping servers with additional hard disks and storage capacity with little effort and manageable costs.
Direct Attached Storage and its benefits
Direct Attached Storage for optimum application performanceIf you only look at the performance data, Direct Attached Storage is ahead of solutions like Network Attached Storage (NAS). The reason for this is simple: with a NAS data has to be retrieved from a network and then forwarded to the server - resulting in some latency. The DAS solution retrieves the data almost immediately. Direct Attached Storage is ideally suited to providing data with the lowest latency for applications with high performance requirements.
Simple implementation of a Direct Attached Storage solutionWith a DAS system, the hard disks or the disk array are connected directly to the server. This only requires a common interface such as SCSI, SAS, FireWire, eSATA, or USB. Switches are not required for this point-to-point connection between the hard disks and the server meaning the system can be easily set up.
Saving money with Direct Attached StorageThe use of Direct Attached Storage rids the need for comprehensive server structures and complex storage solutions, also the need for additional infrastructure or a parallel network. Direct Attached Storage therefore impresses technically with its pure efficiency and economically.
Direct Attached Storage solutions with hardware made by Supermicro
In order to offer our customers a custom-fit Direct Attached Storage solution, we prefer to use hardware components made by Supermicro. As a result, these options are available to you when choosing your storage solution:
All Flash NVMe Storage versions
Simply Double Superstorage Systems with Riser Bay for Double Storage Capacity
Storage systems from 1-4 U
JBOD Storage
All these systems and others from our shop are ideal because of their powerful technical equipment. This allows us to provide you with a successful and high-performance storage solution for your servers.
On request, other systems for your DAS configuration are also possible. If you have special requirements regarding the hard disks, interfaces, or other technical components, we will be happy to fulfill them.
DAS Storage systems for your servers - Fitting configurations and services from HAPPYWARE

Use the strengths of a Direct Attached Storage System for your company. Here at HAPPYWARE you will receive the support you need, ranging from advice on the necessary hardware to practical services:
Configure your DAS storage systemsMake use of our Build-to-Order (BTO) service and configure your own storage solution, which we then assemble individually and deliver to you.
Storage systems rent or leaseHigh-performance hard drives and comprehensive storage systems for your servers are investments that pay for themselves quickly. We can offer you suitable financing models for your budget. Do not hesitate to contact us for further information.
Direct Attached or Network Storage - warranty packages to suit every needWhen it comes to IT, technical issues can cost in both money and time. HAPPYWARE has a wide range of packages from remote assistance to on - site support, helping you minimalise these costs.
DAS Storage offers the opportunity to expand the storage capacities of your servers selectively - without having to go through a network. Buy your individual DAS Storage solution here at HAPPYWARE.