No results were found for the filter!
X500 | Getac Single Xeon Mobile Server Laptop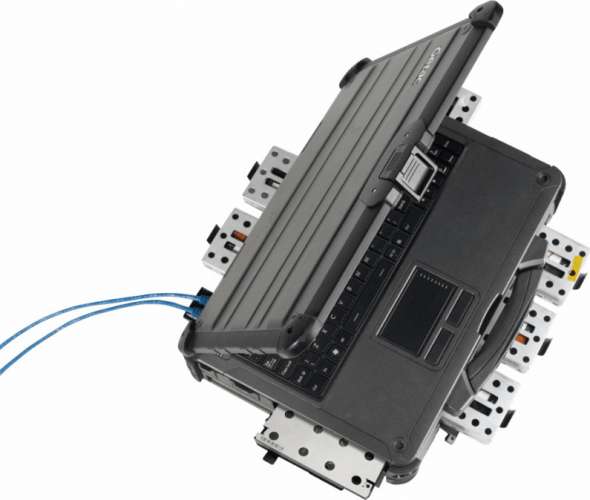 special highlight
MIL-STD-810G and IP65 certificated
Mobile server, 15.6" display
Intel Xeon E3-1505M v6 CPU
Up to 64GB RAM, DDR4 ECC
2x HDD/SSD Drive bays, up to 1TB
X Bay, for up to 5TB SATA HDD/SSD
2x RJ45 GbE LAN Ports
4x USB 3.0, 1x HDMI, 2x COM Ports
Please contact our sales team
Do you need help?
Your contact person:
Christoph Handl
Sales
Do you need help?
Simply call us or use our inquiry form.
What are mobile servers?
Mobile servers are compact server units that are specifically designed as Laptops for use in temporary environments and should not remain permanently at one location.
The mobile servers are also called "rugged servers". Their special feature is that they combine all the technical features of a fully-fledged server in a portable and often extremely robust housing. Individual versions are also used by the military due to their robustness.
What are the benefits of mobile servers?
HAPPYWARE offers mobile servers from the manufacturer Getac. Emphasising and ensuring the robustness of its laptop servers, these rugged laptops are optimized for use in even the most challlenging environmental conditions.
These properties are provided by the mobile servers:
Robust mobile servers for any environment

The servers are fully operational at temperatures from -20°C to +55°C, and even -40°C to +71°C are possible without damaging the server if they are dormant. Thus the ambient temperatures have practically no influence on the usability of these rugged laptop servers.

Factory Delivery with Windows Server 2016

Windows Server 2016 is already installed by default on the laptop server, providing the server with powerful server application management. In combination with modern SSDs, the server is up and running within seconds.

Wide range of accessories to extend the range of applications

Mobile servers in use must be both quickly available and permanently operational. To ensure this, various accessories are available for the laptop server. These range from replacement batteries to power supply units and additional modules to backpacks that allow mobile servers to be transported without difficulty.

Mobile server with different certifications

Getac X500 series Laptop servers are not only certified dustproof and protected against water jets, but also comply with the US military standard MIL-STD-810G.
The entire server, including its magnesium alloy chassis, is optimised to ensure the functionality of the device and the protection of the data stored on it, even under the effects of falls, impacts, splashes, dust and vibrations.
Mobile Server from Getac: Technical Equipment of Laptop Servers
Our mobile servers come standard with the following hardware configuration:
Max. 5 TB storage capacity in RAID Level 0,1 oder 5
QuadraClear®- TFT display with full HD resolution, enables recognition of all screen contents even in direct sunlight
2x GbE slots
Intel-Xeon E3 Prozessor with a clock rate between 3.0 - 4.0 GHz
NVIDIA GeForce GTX950M
Keyboard and touchpad integrated in the housing at the factory
IP65 certificationthrough sealed flaps and connections
In addition to these technical specifications, a so-called "bumper-to-bumper warranty" assures the buyer of these laptop servers 5 years repair and replacement of the devices, even in the event of mere accidental damage. We will be happy to provide you with further information.
Mobile Server Solutions and more: Matching Services from HAPPYWARE
Whether fully equipped server clusters, low latency servers or mobile servers for outdoor use - at HAPPYWARE we have the right hardware for every requirement and every industry.
You can also take advantage of our wide range of services:
Configure server hardware individually

You know exactly which hardware focal points you have to put on your servers? Put these together according to your preferences and let us manufacture your servers directly to suit you.

Rental and leasing contracts

Whether mobile or stationary, professional servers are always a cost factor. Get in touch with us and find out about financing options.

Individual warranty packages for your needs

Choose a warranty package with us according to your own preferences. We offer relevant support via e-mail, on-site repair and, if required, advanced replacement of defective components.
Mobile servers and stationary hardware solutions - you will find all this and more at HAPPYWARE. We would be happy to advise you on how our products can bring benefitto your specific industry.