Server Appliance - The complete Server solution
Purchasing hardware first and equipping it with the right software later can offer many advantages, depending on the intended use: standardised hardware, only a small pool of spare parts, and flexible use. However, this requires a great deal of specialist knowledge, the amount of work involved is high, and in the end the hardware is often under or oversized – despite all efforts. In the worst case, you may even end up working on your own due to having separate contacts covering your hardware and software.
Here you'll find Server Appliances
No results were found for the filter!
BA-SXE35-MFNV3 for Collax VBIEN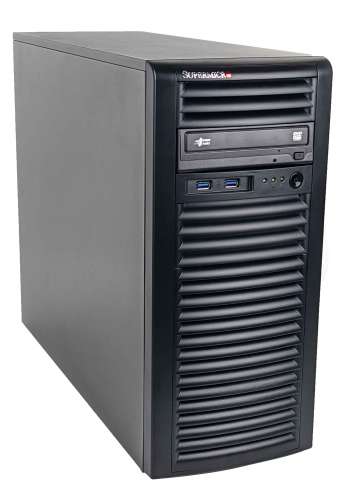 HA appliance consisting of 2 nodes
Intel Xeon E-2378G Processor
64GB RAM DDR4-3200MHz per Node
4 or 8 SSDs per node
2x 1GbE RJ45 LAN ports
HA appliance consisting of 2 nodes
Intel Xeon E-2334 Processor
32GB RAM DDR4-3200MHz per Node
2 or 4 SSDs per Node
2x 1GbE RJ45 LAN ports
Please contact our sales team
Do you need help?
Your contact person:
Gunnar Dietrich
Sales
Do you need help?
Simply call us or use our inquiry form.
Therefore, it is better to have the right special server solutions that are tailor-made for your requirements. HAPPYWARE server appliances offer the perfect solution.
Thanks to special software and hardware that is precisely matched to it, the appliances offer exactly the solution that you as a customer need for your requirements. Its types of application are manifold - and everything is possible, from quite small to extremely large, depending on your needs.
How do I benefit from Server Appliances?
Server appliances provide a turnkey solution and are usually easy to use in existing rack systems. They impress with a rapid and simple installation as well as a low maintenance and administration effort.
IT administrators use the pre-installed software to make every configuration and receive status messages and reports from the appliance. Configurations and profiles for a variety of purposes as well as automatic updates can ensure a fully automated operation, primarily for systems such as security, firewall, and backup. This helps save IT resources.
What types of server appliances are there?

At HAPPYWARE you will definitely find what you are looking for. We offer a wide range of server appliances for the following requirements:
Firewall appliances - security for your data
Firewalls are a classic among server appliances. As stand-alone devices, these compact appliances have been on the market for decades and are used by small, medium-sized, and large companies everywhere. Firewall appliances protect your local network from intruders, fend off attacks from the Internet, and are the first line of defence for your company, protecting your technical equipment against unauthorised access.
A hardware firewall is now standard equipment in every company – from small businesses to global corporations. There are many different types available, ranging from stand-alone devices to rack solutions with multiple Ethernet connections. No matter how these devices are built, they always offer all necessary connection options and a simple user interface. This makes configuration and installation exceptionally easy.
Security appliances - Even more security at all levels
Security appliances take it one step further over firewalls by offering not only traditional firewall functionality, but also fully integrated anti-virus solutions, traffic and content filtering, and intrusion detection to protect your business and employees from intruders and dangerous content.
Phishing sites, infected email attachments, and attempted attacks are blocked and your IT teams are automatically and immediately notified about any attacks. If a security appliance is equipped with an intrusion prevention mechanism, it can automatically defend against external attacks with individual countermeasures and without only reacting to specific attack patterns.
Pre-configured devices with standard profiles for different environments continue to make installation and configuration very easy, allowing you to protect your business efficiently with minimal financial resources.
Storage Server Appliances - Centralised Data Management for Your Employees
Centralised data collection with storage server appliances is the perfect solution for critical corporate data that needs to be available to a large number of employees and accessible across branch offices. Storage appliances are also the ideal partner for IoT applications, which generate immeasurable amounts of data.
Storage server appliances eliminate the hassle of managing and ensuring continuous availability by doing the job for you. With simple on-board tools, they can be monitored by employees with just a few clicks, and expanding the storage or using multiple devices is easily possible. For years now, storage appliances have been the backbone of well-known cloud services.
Backup Server Appliances - secure long-term data storage
The data of your storage appliances or local file servers needs to be protected against loss or damage. Complex backup planning is no longer necessary as intelligent backup appliances not only back up your data, but can also retain old versions of files and provide historical images of data that has long since been deleted or overwritten. Even serious human errors during operation do not lead to catastrophes, because depending on the settings, month-old or even year-old data is not lost.
VMware vSphere Server Appliance - Server Appliances for Virtual Solutions
Traditional servers are a thing of the past thanks to virtualisation. Instead of equipping a rack with numerous individual servers, you can simply equip your company with a virtualisation of the market leader VMware and generate multiple virtual servers with just one click. You can create development and test instances, mail servers, or local servers for complex applications.
With just a few clicks, you can create servers in the network and assign resources as needed. The user interface of the VMware products makes this possible within minutes and saves you the expense and time for the acquisition, configuration, and installation of physical servers.
Microsoft Hyper-V Server Appliance - The Solution from the Software Giant
The VMware competitor Hyper-V from Microsoft also provides easily accessible and configurable virtualisations and is comparable in performance. Particularly for small installations, Hyper-V offers a good price/performance ratio. With HAPPYWARE you can choose between both manufacturers with favourable terms.
Collax V-Bien Server Appliance - Low price and high performance
High availability and reliability at a low price characterise the virtualisation solution from Collax. Two nodes with modern Xeon processors and plenty of RAM are the basis of the Collax system, which not only allows the use of several operating systems such as Linux, Windows, or BSD, but also limits the damage in the event of failures and problems by means of fencing. This means that failures have no effect or negative influence on neighbouring nodes. This makes V-Bien the right partner for virtualisations that are available 24/7 and fail-safe.
Buy or rent Server Appliances: HAPPYWARE has the best solution for every budget

From solo entrepreneurs to global corporations, HAPPYWARE offers everything you need for server appliances of any size. Be it firewalls, storage, or virtualisation – we have the right server appliance for all budgets in our product range. We are happy to offer you support throughout the whole process.
If you are not ready to buy, you can also rent your server appliances from us. This gives you the option to later replace them with larger and more modern server appliances as your business grows. A multitude of possible payment terms and conditions offers maximum flexibility.