No results were found for the filter!
2U Storage JBOD Chassis
12x 3.5 drive bays
4x Mini-SAS HD ports
1x IPMI port
3x 80mm hot-swap fans
740W Redundant power supplies (Platinum Level)
2U Storage JBOD Chassis
24x 2.5 drive bays
4x Mini-SAS HD ports
1x IPMI port
3x 80mm hot-swap fans
740W Redundant power supplies (Platinum Level)
SSG-136R-NEL32JBF | Supermicro 1U Rack JBOF Storage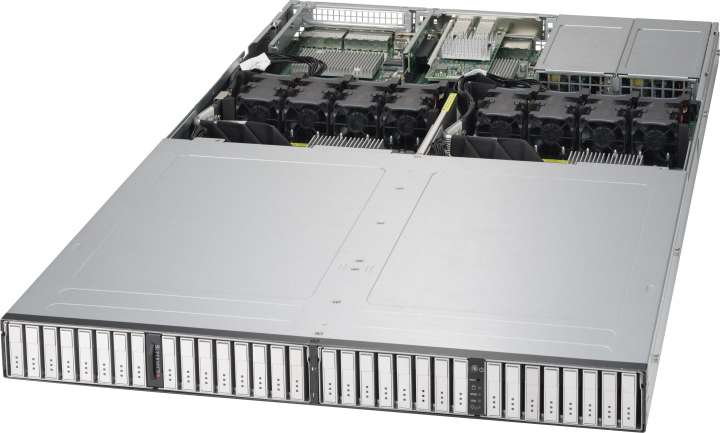 1U JBOF Chassis
32x Hot-swap 9.5mm EDSFF drive bays
2x PCIe 3.0 x16 slots
8x 40mm fans
1000W Redundant power supplies (Titanium Level)
SSG-937R-E2CJB | Supermicro Rack Storage 2-Node JBOD Enclosure
special highlight
Hot-pluggable Dual Expander
3U Storage JBOD Chassis
2x Hot-pluggable nodes
16x 3.5 drive bays totally
4x SAS 3.0 IO ports totally
1200W Redundant power supplies (Titanium Level)
Please contact our sales team
Do you need help?
Your contact person:
Christoph Handl
Sales Manager
Do you need help?
Simply call us or use our inquiry form.
owever, if data redundancy is an important factor, JBODs cannot replace a RAID. This is why a JBOD RAID system combines the strengths of JBOD and RAID, providing significantly increased storage capacity and the ability to store system-critical data redundantly.
Whether it's a single server or an entire server cluster - a JBOD RAID system can be sensibly integrated into a wide variety of IT environments. HAPPYWARE will help you to find the best solution for your company.
What is a JBOD System?
JBODs are a group of individual hard disks ("Just a bunch of disks") that can be used to expand the storage capacity of servers.
Isolated, the hard disks have no additional function and can not be used as RAID. However, if an external JBOD RAID enclosure is used to expand the storage capacity of a server, a server-side RAID controller can form a functional RAID system using the JBODs.
A JBOD RAID enclosure and its advantages
A simple solution to expand storage capacityA JBOD-style disk array provides a cost-effective and compact way to provide additional external storage for your servers. Simply connect the JBOD RAID system to a single node in a cluster via a SAS cable and the new storage space is available immediately.
A highly scalable storage solution for a wide range of requirementsA server identifies each individual hard disk as an independent unit when a JBOD is connected. Due to the server-side access to the hard disks not requiring any specific configuration or structuring of the memory (such as striping), you gain a lot of flexibility. As a result, you can continuously expand the JBOD configuration within the scope of technical possibilities or simply connect additional JBOD RAID enclosures externally to your NAS.

Full RAID functionalityIn itself, a JBOD RAID enclosure can "only" make its additional storage space available to your systems via the hard disks. If, however, the server uses a RAID controller and a dedicated volume management software, then setting up a NAS RAID based on the existing hard disks is not a problem at all.

Please note: RAID function affects storage capacityIf you want to configure your JBOD RAID system as a fully-fledged RAID system, remember that the redundant storage of data on the hard disks effectively reduces their total storage capacity. Connecting additional hard disks can compensate this effect.
JBOD RAID Systems and Services at HAPPYWARE - The right hardware for your needs
If you are looking for a way to expand the storage capacity of your NAS with powerful hard disks, or if you want to set up a RAID system for your servers: here at HAPPYWARE you will find the right hardware for every scenario.
In addition to our storage solutions, we offer a wide range of services:
Configure your own server and storage solutionsWhat is the best configuration for your NAS storage? What storage size should a RAID system provide for your data? You are able to configure with ease your system of choice with our online configurator.
Hire-purchase and leasing of technical hardwareEfficient IT requires good and reliable hardware - this applies to large as well as smaller companies. We offer flexible finance plans allowing you to easily pay for all the hardware components you need in instalments.
Warranty packages for every company and industryEven with redundant systems, technical complications can occur which may require rapid troubleshooting. Our range of warranty packages offfer different levels of support. From remote assistance to on-site support you can determine which level you require.
Use a JBOD RAID system in your company - you benefit from additional storage combined with a reliable data backup for critical company data. HAPPYWARE can supply the specific hardware you need along with expert advice.