No results were found for the filter!
SYS-5029S-TN2 | Supermicro Intel Core-i Mini Tower Server PC
Mini Tower Server, 65W TDP
Intel Core i, Pentium, Celeron CPU, 7th/6th Gen.
Up to 32GB RAM, DDR4-2400MHz Non-ECC
4x Hot-swap 3.5 drive bays
2x GbE LAN ports
4x USB 3.0, 3x USB 2.0 ports
1x HDMI, 1x Display Port, 1x DVI-I
SYS-5029A-2TN4 | Supermicro Mini Tower / Desktop Atom Server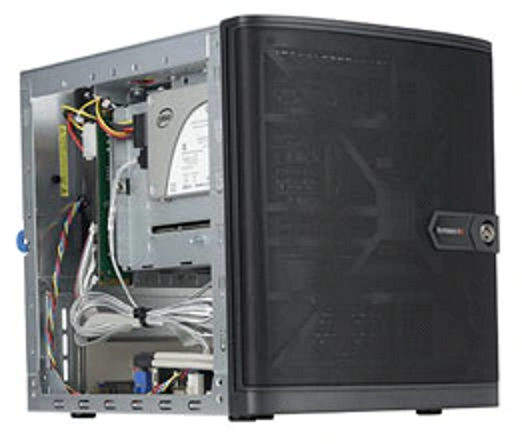 Mini Tower Server, 9W TDP
Intel Atom CPU C3338
Up to 64GB RAM, DDR4-1866MHz
4x RJ45 GbE LAN ports
250W Power supply (Bronze Level)
Mini Tower Server, 80W TDP
Intel Xeon, Core-i, Pentium, Celeron CPU, 8th gen.
Up to 64GB RAM, DDR4-2666MHz ECC
4x USB 3.1 ports
250W Power supply (Bronze level)
Mini Tower NAS
6x Hot-swap 3.5 drive bays
Intel Atom C3538 CPU
Up to 32GB RAM, DDR4 ECC SO-DIMM
4x GbE LAN ports
250W Power supply
Mini Tower NAS
4x Hot-swap 3.5 drive bays
Intel Celeron J4125 CPU
8GB RAM, DDR4 SO-DIMM
2x 2.5GbE LAN ports
90W Power supply
Mini Tower NAS
6x Hot-swap 3.5 drive bays
Intel Pentium D1508 CPU
Up to 32GB RAM, DDR4 ECC SO-DIMM
4x GbE LAN ports
250W Power supply
Please contact our sales team
Do you need help?
Simply call us or use our inquiry form.
From NAS to DAS to SAN, HAPPYWARE covers the full range of storage solutions.
Your IT infrastructure needs to grow with the company with the ability to be easily expanded and optimised. At HAPPYWARE you will find suitable NAS storage solutions from top manufacturers such as Synology, Qnap, Seagate and Freenas appliances who meet the high requirements of modern companies.
Take a look at our extensive range of NAS storage solutions – offered with excellent prices.
What is NAS Storage?
A Network Attached Storage (NAS) is a hard disk storage that is connected to a network (Network Attached) and therefore available across networks. The files on the hard disk storage are made available to all computers in the network - an important advantage over local storage.
In short: NAS storage is a server service that makes files available to clients within a network.
NAS Storage Server: Benefits, functions, applications & more
NAS storage systems are network storage systems that are specifically designed for the storage and provision of files within a network. Instead of files being stored on a single computer they are managed by a central network storage.
Low power demand: The power demand of a NAS storage system is significantly lower than that of an ordinary PC.
Easy data access: NAS systems allow large amounts of data to be easily handled and made available to multiple users quickly and simultaneously.
High speed: When NAS systems are equipped with multiple hard disks and combined into a RAID, this increases not only the capacity and security of the system, but also the speed.
While NAS storage systems are used in personal settings mainly for storing multimedia files and for streaming, the practical storage systems in companies are mostly used for backing up and archiving data.
NAS systems can be divided into three basic categories:
Enterprise NAS: High-performance systems for enterprise environments
Medium performance: Designed to store several hundred TB of data
Entry-level systems: Smaller businesses and home users who need local storage for shared use
No matter for which purpose you need a NAS storage system: HAPPYWARE is the right choice!
NAS Storage at HAPPYWARE - your specialist for all storage solutions
With HAPPYWARE you get both existing NAS storage solutions from the top well-known manufacturers as mentioned before - but also homemade storage solutions that are perfectly tailored to individual needs.
For expert advice or if you have further questions about our NAS storage systems please contact us via the contact form or by telephone. You can reach us at 04105 / 770 000. Our friendly and competent staff look forward to helping you.