No results were found for the filter!
SSG-6019P-ACR12L | Supermicro Dual Xeon 1U Rack Server
special highlight
1U Storage Server
for 12x 3.5" HDD
1U Rack Server, 205W TDP
Dual Intel Xeon Scalable CPU, 2nd Gen.
Up to 3TB RAM, DDR4-2933MHz ECC
12x Hot-swap 3.5 drive bays
4x Hot-swap 2.5 NVMe/SATA drive bays
2x RJ45 10GbE LAN ports
600W Redundant power supplies (Platinum Level)
SSG-6049P-E1CR36H | Supermicro 4U Dual Xeon Rack Server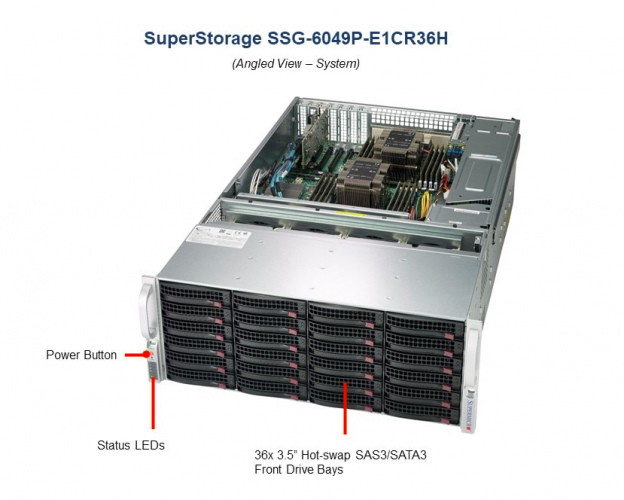 special highlight
Rack Storage Server
for 36 x 3.5" HDD
4U Rack Server, 205W TDP
Dual Intel Xeon Scalable CPU, 2nd Gen.
Up to 4TB RAM, DDR4-2933MHz ECC
36x 3.5 + 2x 2.5 Hot-swap drive bays
Broadcom 3108 SAS3 AOC onboard
2x 10GbE LAN ports
1200W Redundant power supplies (Titanium Level)
3U Rack Server, 205W TDP
Dual Intel Xeon Scalable CPU, 2nd Gen.
Up to 4TB RAM, DDR4-2933MHz ECC
16x Hot-swap 3.5 drive bays
Broadcom 3108 SAS3 AOC onboard
2x RJ45 10GbE LAN ports
1200W Redundant power supplies (Titanium level)
SSG-136R-NEL32JBF | Supermicro 1U Rack JBOF Storage Enclosure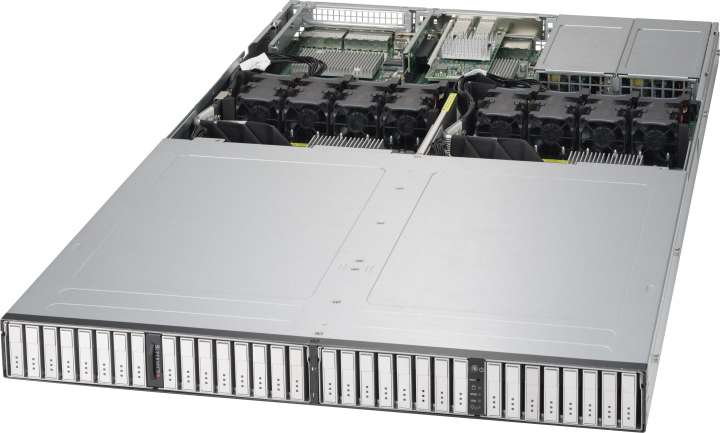 1U JBOF Chassis
32x Hot-swap 9.5mm EDSFF drive bays
2x PCIe 3.0 x16 slots
8x 40mm fans
1000W Redundant power supplies (Titanium Level)
Please contact our sales team
Do you need help?
Simply call us or use our inquiry form.
To achieve this flexibility in data management, professional scale-out storage for NAS environments is a reliable and highly configurable solution that meets virtually any need.
Scale-out NAS Storage with HAPPYWARE - implement custom-built storage configurations in your company, with us you will find quality support and high-performance hardware.
What does scale-out mean?
The scale-out principle is also known as "horizontal scaling". This refers to an external storage architecture that is used to expand existing servers with new storage capacities.
Scale-out storage solutions are designed in such a way that a NAS can be expanded by adding more nodes as required. This does not result in too low or too high capacities. An alternative option is the scale-up principle, which is aimed at the technical expansion of existing hardware.
Scale-out NAS Storage and their advantages
Transparent investment costs From an economic point of view companies always have to consider adding more storage capacity. The purchase of hard disks has its purpose, but if the capacity utilisation is not given, such a purchase is simply uneconomical.With Scale-out Storage you can create a NAS (Network Attached Storage). Thanks to its simple expandability, it provides the resources you need. The purchase of large storage "in stock" is therefore no longer necessary.
Intuitive storage expansion optionsThe scale-out storage architecture allows you to easily connect additional storage components repeatedly to your existing storage network when it reaches its performance limits. This creates a storage pool that can be integrated seamlessly into the cluster as a logical system.In addition to pure storage capacity, external storage clusters commonly have their own computing power and a storage controller. For example, if you connect a JBOD to your NAS, you benefit not only from its storage capacity, but also from increased performance for your entire server network.
Storage expansion on demand - no long-term planning requiredBy leveraging the strengths of scale-out storage systems, organisations save themselves the hassle of planning ahead for their storage needs. Scale-out storage offers virtually unlimited scalability. A shortage of storage capacity can easily be compensated while effectively avoiding overcapacity.
Implementing scale-out NAS systems with HAPPYWARE - Our services for your servers
Choose a lean scale-out storage setup that grows with your business while remaining economically viable. You can implement a NAS both locally and over long distances and benefit from a strong mix of storage capacity and computing power that is made available to your system.
To ensure that your IT always meets your requirements, we offer not only powerful hardware, but also a wide range of services:
Custom-build and buy your NAS StorageYou may want to equip your NAS with additional JBODs from the factory or initially rely on a compact scale-out storage system. At HAPPYWARE you are free to choose your own storage system. Design the system that meets your needs, and we will deliver it manufactured to your specifications.
Server equipment - rent or leaseCompared to earlier scale-up systems, a scale-out storage solution can hold its own not only from a technical perspective, but also in terms of costs. Contact us for information on HAPPYWARE for our financing options. We are always happy to help.
Extensive warranty packages for every customer Expand your storage capacity continuously and protect your data from risks at the same time. Our customers can choose from a wide range of warranty packages. Our services range from remote support to the prompt replacement of hardware in case of a defect.
Learn more about powerful scale-out storage systems at HAPPYWARE. We offer both the technical equipment and the necessary knowledge.