Do you need help?
Simply call us or use our inquiry form.
What are the benefits of HPC Storage?
HPC storage systems are designed for HPC Environments to store even large amounts of data in parallel on different storage servers and to enable other clients to simultaneously access this data.
The file or file system works across the board and is active concurrently on several servers. This ensures that all relevant data stored there is available redundantly and that the HPC storage system is fully functional even if a single storage server fails.
HPC Storage Systems - Common Architectures
HPC Storage with Lustre
Lustre is a parallel and distributed file system funded by the non-profit organizations OpenSFS and EOFS. It is very often used in large high-performance computing clusters.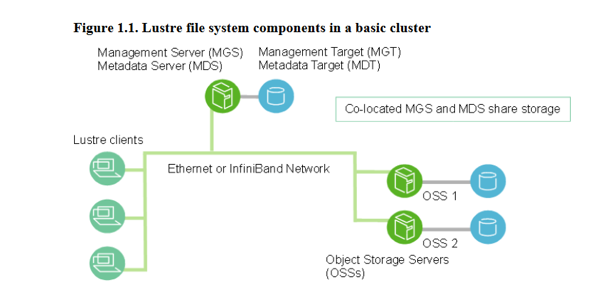 This offers a HPC storage system with Lustre architecture:
Required Lustre client software for each client
Support for 100 - 100,000 individual clients
I/O throughput of several hundred gigabytes per second
Data access via block access
Object-based memory architecture
Ethernet or Infiniband network support
Communication Between Client and Object Storage Servers (OSS) Secured by Checksum
Active/active failover data protection with multiple mount protection (MMP) / especially important for data integrity in a HA system
HPC Storage with GlusterFS
GlusterFS is a scalable and distributed file system that bundles all its own storage resources compactly in a global namespace. It is currently operated by Red Hat.
This offers a HPC storage system with GlusterFS architecture:
Modular structure of the system
Infiniband and TCP network support
Possibility of retrofitting functions
I/O throughput of a few gigabytes per second
Possibility to set up different RAID levels
High fault tolerance due to the wide storage network
Bundling of storage resources within logical volumes
HPC Storage with BeeGFS
BeeGFS is an open-source architecture with a distributed file system. The system is specially optimized for use in HPC environments and is appreciated for its flexible application possibilities.
This offers a HPC storage system with BeeGFS architecture:
Easy scalability of the system
Compatibility with all Linux systems
Work with storage and metadata servers
Increase data throughput by integrating additional storage servers
Support for Infiniband, Omni-Path, RoCE and TCP as a network
System expandability possible during operation
Hardware-independent, so also combinable with different hardware architectures (Intel/AMD x86_64/ARM/OpenPOWER)
Support of graphical interfaces for performance analysis
Failover functionality for increased data security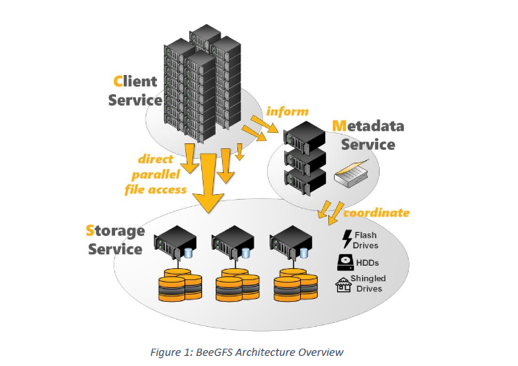 HPC Storage Projects: Professional realization with HAPPYWARE
Since 1999, our company has specialized in equipping customers from various industries with high-quality IT. Due to our many years of experience, we are the right contact for all kinds of technical questions.
Strong products for high performance Depending on your own HPC system, a reliable high-performance storage solution needs to be tailored to your needs. We assess your ideal design and the requirements of your industry in order to be able to offer exactly such an HPC storage solution.
HPC storage systems with warranty extension With our versatile warranty packages, your HPC systems are protected against all eventualities. For our HPC Storage, we also offer you an optional warranty extension of up to 5 years.
Professional on-site repair service Whether it's planning and configuration or maintenance of your HPC systems, you can count on HAPPYWARE. We can also offer you additional services such as the pre-exchange of parts or on-site repair service with up to one hour response time and 24/7 support for your high-performance storage systems.
If you require more information about the right HPC storage for your HPC environment, get professional advice from HAPPYWARE. Contact us and ask for our HPC experts - they will be happy to help and advise you.