Do you need help?
Simply call us or use our inquiry form.
Die Desktopvirtualisierung und ihre Vorteile
A Virtual Desktop Infrastructure (VDI) offers a number of advantages that are already being leveraged by many companies across all industries. At this point, we would like to give you a brief overview of the benefits of desktop virtualisation:
Easy administration from a central data centre Many companies operate their entire server and client infrastructure in a data centre in order to achieve higher availability and flexibility. Software changes and updates can be easily made available company-wide while flexibly responding to new performance requirements.
Easy provisioning of resources for all users Usually, thin or zero clients are available to users who access the user VM via a remote client. The desktops or systems remain completely customisable and offer significantly higher performance than conventional desktop hardware.
Cost-efficient operation By consolidating all resources, maintenance and energy costs can be reduced effectively. The workstations provided to users are practically maintenance-free.
Special IDs and permissions for different users Not all users need all permissions - desktop virtualisation gives each user a specific image of the operating system that they can work with. This ensures that each employee has exactly the resources they need for their work.
Desktop virtualisation: application virtualisation for work on specific projects
Access via remote desktop is not always useful or welcome. External employees or employees who temporarily take over tasks often only need a special programme.  With application virtualisation, you can provide just the resources your users need for their jobs.
With this type of virtualisation, one or more applications are made available in such a way that no separate installation is required on the user workstation. The application is integrated directly into the user desktop from the host via a remote client.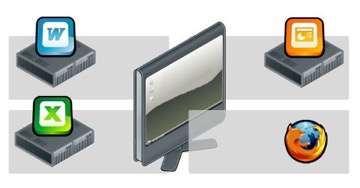 In contrast to desktop virtualisation, this type of virtualisation requires fewer hardware resources on the host as the host does not have to provide a complete desktop. Additional advantages are a better user experience when working simultaneously with local and remote apps, and the security that no dependencies/conflicts can occur owing to the isolated operation of the applications on the client system.
Desktop virtualisation and more: Efficient IT solutions from HAPPYWARE
You would like to learn more about different virtualisation solutions? We are happy to assist you with our know-how. Contact us by phone or email and we will gladly provide any information you need!