No results were found for the filter!
HA appliance consisting of 2 nodes
Intel Xeon E-2334 Processor
32GB RAM DDR4-3200MHz per Node
2 or 4 SSDs per Node
2x 1GbE RJ45 LAN ports
BA-SXE35-MFNV3 for Collax VBIEN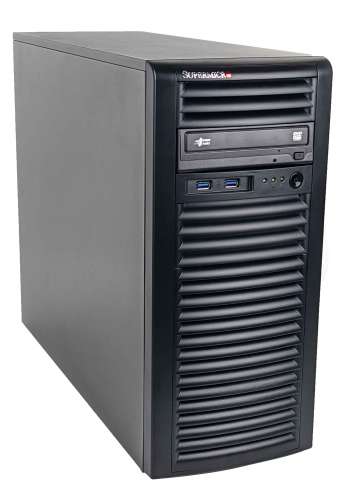 HA appliance consisting of 2 nodes
Intel Xeon E-2378G Processor
64GB RAM DDR4-3200MHz per Node
4 or 8 SSDs per node
2x 1GbE RJ45 LAN ports
Please contact our sales team
Do you need help?
Your contact person:
Donna Holz
Sales
Do you need help?
Simply call us or use our inquiry form.
What is Collax V-Bien?
Collax V-Bien is a high availability and virtualization solution that ensures the uninterrupted operation of virtual machines. It is a combination of software and hardware.
Collax V-Bien has been optimised for the needs of SMEs and the self-employed. The Collax V-Bien system works by default with two identical nodes in active active mode to ensure high availability (failover) of the system and all virtual machines through redundant storage access.
There are three available variants of Collax V-Bien:
Collax V-Bien
Collax V-Bien Office
Collax V-Bien Pro
The standard and office versions use a maximum of one processor socket and up to 64 GB RAM per node, the Collax V-Bien Pro version can effectively use up to 768 GB RAM and two processor sockets.
The advantages of a failover cluster with Collax V-Bien
Low-cost entry into the field of virtualization
Collax V-Bien is deliberately designed in such a way that even small companies and freelancers have the opportunity to implement the high availability of their servers at affordable prices. The performance of the system remains highly scalable. At the same time, Collax V-Bien uses full virtualization functions to optimally utilize the capacities of servers.
Collax Proactive HA is able to take individual server nodes out of service before their actual failure occurs. Collax V-Bien continuously monitors data throughput, power consumption and more. In combination with the Collax Fencing Devices, your systems remain available throughout.
With Collax V-Bien, it is possible to virtually replicate a company's infrastructure. The system also includes support for additional network interfaces through virtual switches.
Possibility of remote maintenance
Collax V-Bien is administered via a browser-controlled interface. This allows the functionality of the entire system to be monitored remotely. Status information, statistics and backups of the server are possible via the browser interface.
It should be particularly emphasized that Collax V-Bien is a complete package consisting of hardware (two server nodes), software and corresponding support. This gives you everything you need to set up server environments that are well positioned for virtualization and high availability.
We are happy to offer you advice if you would like to receive further information.
Security for your servers: Collax V-Bien with patented Collax Fencing Device

The specially developed "Collax Fencing Device" effectively prevents your HA cluster from serious server problems if a node fails. This ensures that the high availability of the servers is ensured in the event of a failure of the "interconnect", i.e. the communication channel of both nodes.
Each node is equipped with an individual Collax Fencing Device that monitors the node. These devices communicate with each other via a separate channel and supply each other with power.
Among other things, these complications are prevented if a server node fails:
We speak of a split brain when the interconnect of the nodes breaks off and both try separately to access a jointly accessible data set. With Collax V-Bien, the node that is no longer accessible is isolated by the Collax Fencing Device to ensure the integrity of the storage systems.
In this case, the interconnect of the nodes terminates and both nodes attempt to disconnect the other node. The fencing mechanism of the Collax V-Bien prevents one of the signals from being sent, so that only one of the nodes is shut down and the high availability of the servers is maintained.
Ensure virtualization and high availability of your servers - with Collax V-Bien and our services

Collax V-Bien is a powerful solution for SMBs and self-employed professionals who want to take advantage of the virtualization possibilities and the high availability of their servers. At HAPPYWARE you will find the right hardware for every requirement.
Whether small business or market leader, whether Collax V-Bien based on Linux or Windows Server - we combine strong technical components with equally strong services:
Configure and buy your own server
Rent or lease complete server solutions
Individual warranty packages to meet your needs
Rely on HAPPYWARE and discover the right solution for your company for high availability and virtualization. We are happy to offer you advice on Collax V-Bien and all other possibilities.